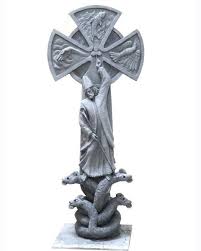 TENTATIVE plans to erect a 100-foot statue of St Patrick on top of the patron saint's sacred mountain have had to be dropped. To put it delicately, Mayo said no.
A Canadian sculptor inauspiciously named Timothy Schmalz was behind the idea. He compared it to the Statue of Liberty, and claimed it would have attracted millions of tourists every year at a cost of only €10m.
Schmalz planned to depict St Patrick in a sort of action hero pose, with one arm aloft and pointing aggressively at a shamrock, while four serpent-like creatures writhe cartoonishly at his feet.
Local paper the Mayo News took the liberty of canvassing Mayo's opinion of the statue. To paraphrase the people of Mayo: "We're deeply obliged to you but we must respectfully and regretfully decline your offer." To quote the people of Mayo accurately: "Feck off for yourself with your 100-foot statue. Go on. Go on. Feck off out of that."
Thank you, people of Mayo, for making your feelings so plain. If only we'd all been given the chance to be so forthright on the subject of public art, there wouldn't be half so many revolting sculptures thrown up in town centres all over the country.
Published in the Irish Mail on Sunday, 31 March 2013